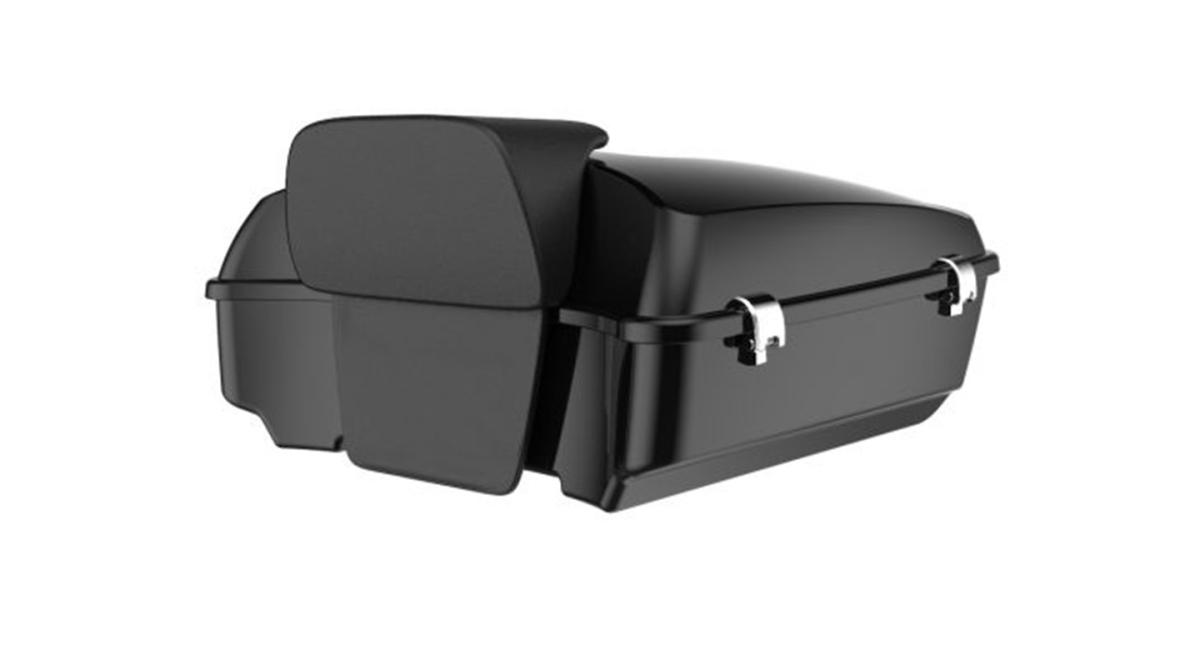 One of life's true joys is customizing your Harley Davidson motorcycle. You can literally spend hours on the Advanblack website looking (and drooling) over all the accessories and upgrades you can put on your bike. From inner and outer fairings to saddlebags and speaker lids, lighting kits to crash bars and fender extensions, you can customize your bike from one end to the other. And you can spend a little or a lot, depending on your imagination and your budget. The fact is that Advanblack has you covered no matter what accessory you're looking for.
We've put together a short list of a few accessories and upgrades that are some of the most popular accessories for the Harley Davidson Street Glide. And for those of you who have a different model, this list is for you, too. These accessories might fit a lot of different models. Just be sure and check the fitment of any accessory or upgrade before you buy it. Now, on with the list!
One of the major upgrades you can put on your Street Glide is a Tour Pack. This is a must-have accessory if you're planning long rides or overnighters, and want any passenger to ride in comfort for long distances. There are a few to choose from and most have their own accessories as well, such as a luggage rack, LED lighting kids, custom-stitched liners, and custom-stitched backrest pads. Here's a video to see how they look and how to install one.
Saddlebags might be the first accessory you'll want to get. You can get them in stretched and non-stretched styles, and both come with all kinds of additions, such as lids (if you don't want to use the OEM lids or have a custom color, speaker lids, latch kits, rear fender extensions, skid plates, exhaust brackets – you name it! And take it from the experts, you should go ahead and get custom liners or put them on your wish list. You'll want them for sure.
Advanblack saddlebags come in just about any Harley color you have and are guaranteed to color match. Like most of our other accessories, they are made of tough, high-grade injection mold ABS plastic. Installing it yourself? Here's a video for some helpful tips.
Tank covers are perfect for self-expression. We have them in over 90 colors and airbrushed, but you can also get them non-painted and do a custom job. These fit all Street Glides as long as you have the stock seats. These are direct bolt-ons and fit over your stock tank. And there's no glue required for installing this tank cover! They match perfectly with side covers and mid-frame deflectors as well.
Your OEM seats are just fine but upgrading them is easy and not too expensive. You can get the driver's seat, backrest pads, and/or wraparound backrests for the Kind Tour Pack. The seats come with custom color stitching and piping and are made with foam and our famous "Gel-Lab" technology. This gel cushion absorbs vibration, evenly distributes your body heat, and molds around you as you move. Learn more about our seats here.
Brake Pedals, Floorboards, and Shifters
Let's tap the brakes on the more expensive options and look at some cost-friendly accessories that say "Harley" all the way.
A Brake Pedal is a quick, easy way to dress up your bike. Our brake pedals are CNC machines cut from one piece of 6061 billet aluminum and come with aggressive bad-a$$ spikes. You can get them in either black or chrome, and they bolt directly onto the OEM brake arm.
Step it up a notch with new front and rear floorboards. These are solid or hard-mount floorboards. With a hard mount and no rubber, you're probably thinking there's going to be vibration. But thanks to the design of the newer style bikes, vibration is a thing of the past. These footboards have spike grips and a custom cut. They match our brake pedal if you want to get them as a set.
Bear in mind that this has a slightly different mounting system, so if you have an aftermarket brake pedal, it may not fit. Give us a call and we can help you figure it out. If you're installing these yourself, take a look at this video.
If you go with an Advanblack brake pedal, you should consider the shifters too. We sell the pedal, shifters, and floorboards separately, or you can get them as a set. Perfect if you have a birthday coming up!
If you're not sold on these already, check out how good they look here.
If you're like most riders, you have a sound system. We partnered with XBS Customs in Virginia to bring you the coolest speaker covers around and they're exclusive to Advanblack. The sophisticated hex design will have people asking you where you got them. They are machined aluminum and come in a variety of colors and fit your 8" and 6.5" speakers, such as in the Tour Pack, saddleback lids, or the front fairing. Check out this video if you're doing the installation.
Hand guards are great for cold weather or rain, and they look pretty cool too! These hand guards are molded ABS plastic with detachable rubber inserts that allow you to vent the guards if you want. These are pretty easy to install, and you can check out the install video here. But, be careful about the installation. You can't mount these so close to the hand lever that your hand hits it in the event of an emergency. Keep it far enough from the lever that you can grab the clutch or brake quickly without hitting the guard.
Hand guards are one of those accessories that you don't see every day and people will be wondering where you got them. Advanblack, of course!
Three awesome budget-friendly accessories
We had so many customers ask about this we finally had to make one – a touch-up paint pen. We have this touch-up paint pen in over 110 different Harley Davidson colors, and it's ideal to repair little dinks, nicks, and scratches. It comes with a piston-style pen tip, like a ballpoint pen, for little scratches and chips. For larger applications, it also has a brush applicator. Now, if the ding is all the way down to the ABS plastic, you may have to wet sand the area and polish it out.
One of the most important applications for a touch-up pen isn't even on a painted surface. If your exposed metal gets a dink you are at risk of rust, in other words, your worst nightmare. The paint pen can help stop the rust. Here's a helpful video on how to use Advanblack's touch-up paint pen.
If you have a '14+ Street Glide with a King, Chopped, or Razor-Pak Tour Pack, you'll want a retractable tether cord. It allows the lid to go past vertical to improve stability and makes it easier to pack your gear. When you're ready to close it, there's an automatic coil that retracts automatically like a tape measure. It's the best $35 bucks you'll spend on your bike. Great gift for your favorite Harley owner!
Last but not least are windshield spikes. They install in just minutes and replace the factory bolts on your windshield. They are CNC machined from forged billet aluminum, just like our brake pedals. See how cool they look here! That's all folks! There are lots more accessories than this for your Street Glide or whatever Harley Davidson motorcycle you own. Be sure and check them all out on our website!