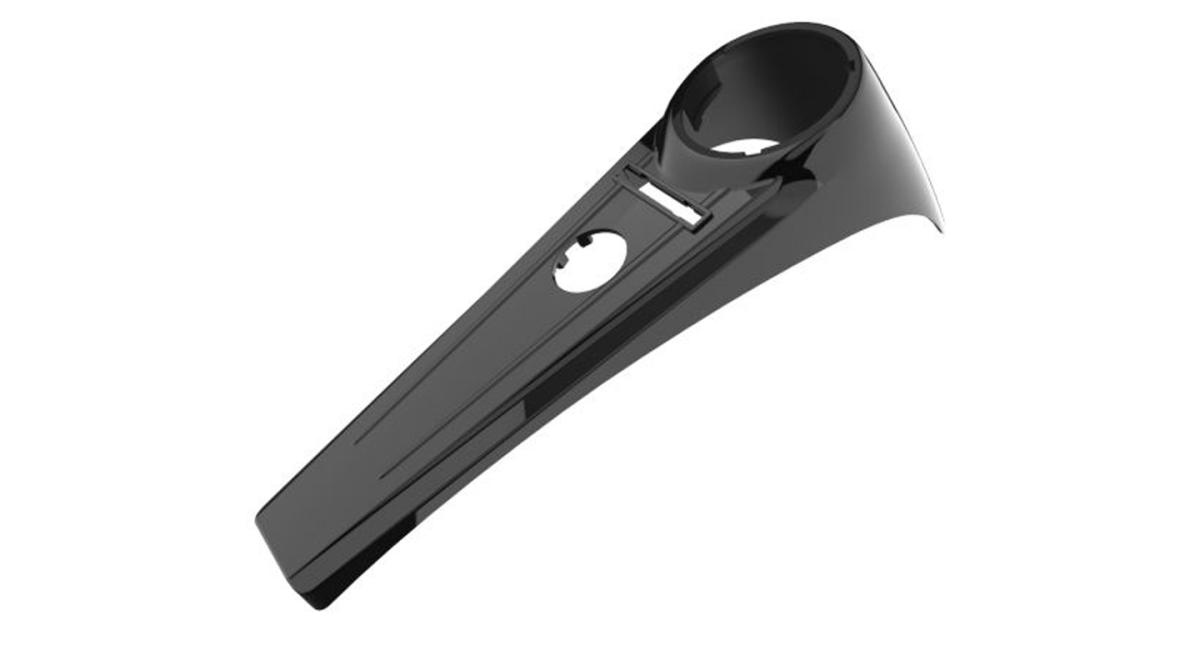 With Advanblack's variety of parts, which are all guaranteed to color match, you can make the bike of your dreams even better by customizing it to suit your style and personality. With Advanblack, you can start small with speaker covers on your saddlebags, change the color of your entire bike with our new color swap package, or start with something fairly simple and inexpensive like your Tank Dash Console.
I can swap out the Tank Dash Console on my Harley?
For sure! In fact, one of the more popular customizations is the Tank Dash Console, mostly because the Tank Dash Console from Harley is a short tank dash that often comes with extensions or leather bibs that are supposed to look like one piece, but it doesn't. Advanblack's Tank Dash Consoles are one piece and look great.
One of Advanblack's most popular Tank Dash Consoles is the chrome extended stretched tank console for Harley Softail Deluxe and Fatboy motorcycles (2011-2017). This console stretches the length of the gas tank for a cleaner look with longer lines. It's a direct replacement for the OEM console panel and comes pre-drilled for easy installation for straight indicator lights. If you have a Heritage or another Softail model that has curved indicators, this will still fit, but you need to get a separate wire harness direct from Harley, along with the straight turn signal lens.
This console comes in chrome, which looks awesome with just about any color, but you can get it color matched to whatever color you have. If you have a custom paint job on your gas tank, chrome may be the best option. Our color-matched Tank Dash Console is made of injection molded ABS plastic and comes with all the hardware and gasket you need for installation.
Any options for other Harley models?
Who would make a center console for Harley motorcycles and leave out the Electra Glides, Street Glides and Road Glides? Not Advanblack! Our low-profile tank dash console fits all 2008 – 2022 Harley Street and Road Glide models. It's a direct OEM replacement and fits the Harley tank or the Advanblack stretched tank cover if you happen to have one of those. Like all Advanblack parts, the low-profile tank console is guaranteed to match your OEM Harley color. To be clear, this only covers the gas tank and not the gauge like on the extended stretched tank console.
As far as fitment is concerned, it's worth noting that if your gas cap is mounted on the side, which some custom jobs are, this console will not fit. However, it will fit the Street Glide Trike if you remove or relocate the CB port. Lastly, if you have an Ultra, Limited or Tri Glide models, it won't fit at all regardless of the CB port (sorry folks!).
How hard is the Tank Dash Console to install?
The low-profile dash console is one of the easiest installs there is. It's just two screws – one in front and one in back. The stock dash sits a little taller than this one on your gas tank, hence the "low-profile", and it will most likely be chrome. You can stick with chrome or match the color to your tank color. This console comes in over 100 Harley colors, so we probably have you covered.
The stock dash has one screw at the top and one at the bottom of the dash console. For the top screw, just turn your front wheel to the side, and you should be able to access it, although you might have to turn the ignition. The bottom bolt is accessible under your driver seat.
Steve says something in the video that sounds like "Strap" or "strat" but I cannot decipher it. Regardless, it's under the seat.
Once the bolts are removed, the OEM dash lifts right off. You'll see the breather line mounted underneath the console. Just disconnect it and pull it out. Your new dash console fits on top of the stock Harley gas tank or on top of Advanblack tank covers. It's a matter of making sure all the lines are running properly underneath the console and then tightening the two mounting bolts. When tightening these bolts, start with the front first but don't tighten it all the way yet. Do the back bolt next and tighten it once you're sure all the lines are underneath the console. Then go back and tighten the front bolt. That's it! You're done. To see this installation in action with Steve the Service Technician, check out the video on YouTube.
Since this is a low-profile console cover, the gas cap mounts flush. Depending if you have the stock gas tank or the Advanblack tank cover, you'll have to remove one of the gaskets on the gas cap, so it fits properly. It's self-evident when you install it, so you shouldn't have any trouble.
Now with the stretched tank console, the installation is a little trickier because you have the wire harness to deal with as it powers your gauges. Plus, you'll have to unbolt the gas tank and slide it back (you don't need to take it off!). For more information on this installation, check out our video on YouTube.
You'll love the look of either of these consoles, but just be prepared to jump on board with other customizations. It won't be long, and you'll be thinking how cool a new inner fairing would look.
As always, we're only a phone call away or talk to other Harley enthusiasts on social.